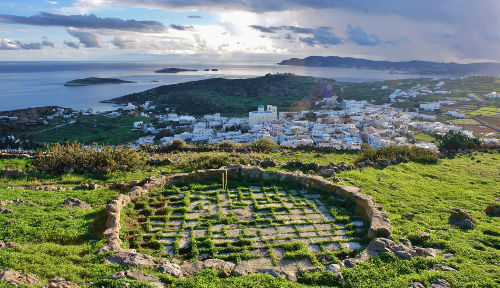 The island
At the moment that you arrive in Psathi the Kimolian harbor, you feel like your heart is full of happiness. The island is picturesque and beautiful, the waters are green, the houses in blue and white, they proudly stand to compose a fairytale picture that stays forever in your mind. The peace and calm you meet absorbs you.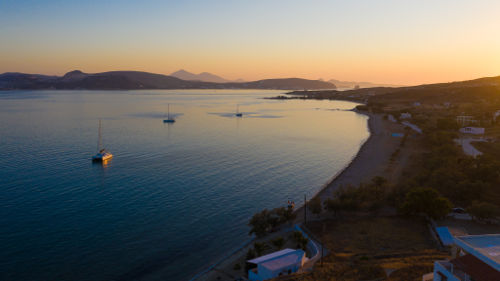 Aliki settlement
The settlement of Alyki is one of the four coastal settlements of Kimolos. It is located on the southwest side of the island with a wonderful view of the island of Agios Georgios, Pyrgonisi and Apollonia (the second port of Milos). Inhabits all year round. Summer is one of the most famous settlements of Kimolos for the taverns with fresh fish next to the beach. In winter it turns into a small wetland, where migratory birds stop during their migration process for a few hours of rest.
The beach of Alyki is not organized, but it has many large tamarisk trees. It is a beach for all tastes, because it has pebbles and fine sand. Its biggest advantage is that it's "windless" in summer meltemia. Bonatsa and Kalamitsi, the next beaches in a row, are sandy with golden sand and many tamarisk trees.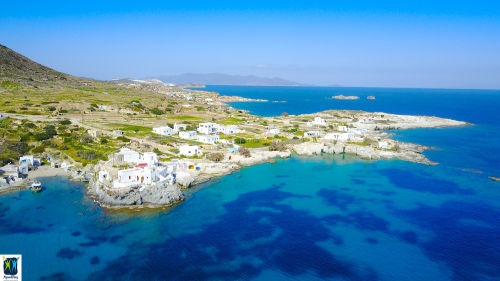 Naming
The name Kimolos, according to mythology, comes from its first inhabitant Kimolos, son of Apollo, husband of Sides, daughter of Taurus. In ancient times it was also known as Ofidousa and Echinousa due to the many reptiles that existed on the island. During the 13th - 14th century the Venetians called it Arzandiera or Arzandara which means silver because of the white color of its rocks. Ovid calls Kimolos cretosam, while referring to the Itinerarium of Antonini Augusti, who calls it Cimelos. Finally, we Kimoliates call it "My Kimolos, my Paradise".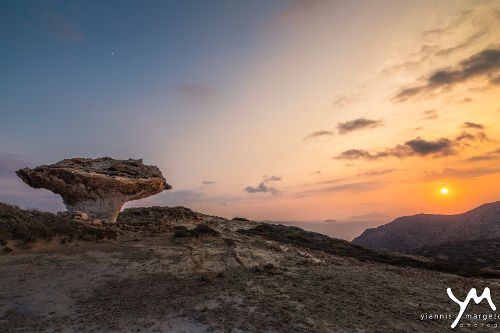 Transport
Kimolos belongs to the island complex of the Cyclades and more specifically to the southwestern border between Milos and Sifnos. It has an elliptical shape with a perimeter of 14 kilometers and its surface is 40 square kilometers. It is 86 nautical miles from Piraeus.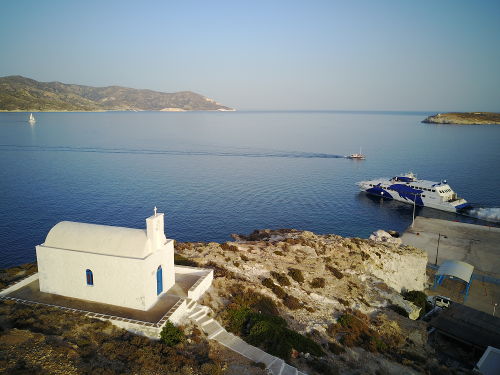 How to come to Kimolos
- Directly by speedboat or conventional ferry departing from the port of Piraeus
- Alternatively you can travel by boat or air to neighboring Milos island. Then you will need to go by road either from the main port of Milos (Adamas) or from the airport to the port of Apollonia and from there with the open passenger - vehicle ferry "Osia Metodia" to go to the port of Kimolos (Psathi). There is daily communication and your transfer will take only 25 minutes as the distance between Apollonia and Psathi is only 1 nautical mile.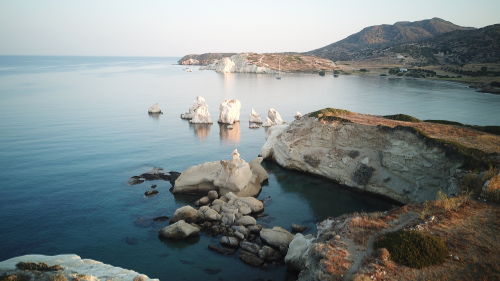 Kilometer distances
Kilometer distances from our accommodation
Kimolos port (Psathi): 2.5Km
Kimolos village: 2.5Km
Aliki beach: 400m
Bonatsas beach: 1.2Km
Kalamitsi beach: 1.5Km
Elinika beach: 3.1Km
Dekas beach: 2.8Km
Mavrospilia beach: 3.5Km
Klima beach: 4.5Km
Goupa - Rema beach: 2.7Km
Karas (rocky shore): 3.6Km
Prasa beach: 8Km
Monastiria beach: 8.5Km